DeMatha Express- October 10th
cglowacki@dematha.org
Here is the latest from DeMatha:
Campus Minister Bro. Joshua Warshak O.SS.T., professed his solemn vows in front of the entire DeMatha community in a special ceremony late in September. This marked an important milestone in Bro. Josh's decade-long journey to become a part of the Trinitarian Order, which will be official when he is ordained as a priest in June.

Here are some photos from the day (taken by photographer Barney Gomez).

Link

.

In addition to hosting the HSPA Professional Development Day on Oct. 25, DeMatha will be honoring Rich Blorstad '10 as Novice Teacher-of-the-Year and Jim Roper as Veteran Teacher-of-the-Year.

Our Open House will be held on Sun., Nov. 3 starting at 10:30am. This is a great chance for prospective students and their families to come visit the campus, meet the faculty/staff and current students and get an idea of what it means to be a part of DeMatha and a part of this One Strong Brotherhood. Please contact admissions@dematha.org for any questions about this event. There will also be an Admissions Information Session for prospective students on Tues., Oct. 29 at 7pm in the Kilby Alumni Lounge. Again, contact the Admissions Office for any questions.

Interested in having your son get the DeMatha experience? Sign up for our Stag-for-a-Day program! Link.

The annual Walk-a-Thon was held last Friday as the DeMatha community walked in solidarity and raised over $2,300 for Casa Hogar Sonrisa De Angeles (Smiling Angels Children's Home), an orphanage in Tijuana, Mexico, that serves 40-50 children.
Thank you for your support! Here are some photos from the event: Link.

New to DeMatha this year are the 32" interactive touch screens called HootBoards, which allow students to check their schedule, get important updates through daily/weekly bulletins and access Veracross. They were installed over the summer by faculty/staff members Mr. Chris Keplinger, Mr. Paul Pham, Mr. James Bradley '08, and Mr. Tam Hoang.


The varsity football team defeated Friendship Collegiate Academy 17-0 last week to improve to 5-1 on the season! Link. The Stags have a bye this week, but will next have a big road matchup at Gonzaga on Sat., Oct. 19 at 2pm.

The varsity soccer team dropped a tough 1-0 matchup earlier this week to St. Mary's Ryken. The Stags will look to rebound this week with home contests tomorrow against O'Connell at 3pm and against Ireton on Tues., Oct. 15 at 3pm. Both games will be played at The Fields at RFK.

The cross country team will be racing on Saturday in the Glory Days Grill Invitational at Bull Run Regional Park.

The wrestling team competed in a preseason tournament last weekend at the UMBC Retriever Wrestling Open.

Congrats to Dominic Joseph Vicino, father of Larry '63 and Paul '70 -- cousin of Joe '67.

Mr. Vicino just recently celebrated his 101st birthday. Last year, he danced at his 100th birthday party! Congrats again from the DeMatha family!

Bill Humbert '67 was featured in a Park City Television interview about the best practices for employers in recruiting high quality talent to their organizations: Link. Bill's wife Linda will sing at Carnegie Hall next year.

Alex Piquero '88, a criminology professor at the University of Texas at Dallas, was interviewed by several media outlets last week during the highly publicized trial in Dallas: Link.

Steve Malley '96 is the Executive Producer of a movie called 'Team Marco', which is premiering at the Mill Valley Film Festival in California: Link.


Bradley Novack '99 married his wife Adrienne Maher on Sept. 21 in Richmond, VA., and Eric Monterastlli '99 was his Best Man.

Reginald Parker '06 married Pryanka Dhar on Sept. 14. Fellow Stag De'Alonzio Jackson '06 served as the Best Man. His brothers Randall '11 and Ryan '15 served as groomsmen.

Beau English '17, quarterback for Richmond University, was named the team's Offensive Player-of-the-Week in the Spiders' 23-20 win over Albany last weekend.

The 2019 Kaleidoscope Concert will be held THIS Saturday starting at 6:15pm with a reception and then the concert at 7:30pm in the Convocation Center. Get your tickets today, listen to great music and help continue to support the DeMatha Instrumental Music Program! Link. Interested in what's going on with Music Program? Check out the latest Stag Notes (labeled 'September 2019) on the DeMatha website: Link.

The 2019 DeMatha Hall of Fame Ceremony will be held on Sun., Oct. 27 at 2:30pm in the Antler Room (evening will conclude by 6pm). The registration link includes the name of the recipients. Tickets will be $30 per person, which includes a pre-ceremony reception. Register. If you would prefer to write a check, make check payable to DeMatha; mail to DeMatha Hall of Fame, 4313 Madison Street, Hyattsville, MD 20781. The Final Deadline for Buying Tickets will be Oct. 23. Should be a great event and look forward to seeing everyone there!

Stag Nite will be held on Wed., Nov. 27.


Purchase tickets early as this event could sell out! Purchase Tickets
Purchase tickets by check: make check out to DeMatha and mail to 4313 Madison Street, Hyattsville, MD 20781 attn: Stag Nite or stop by the Advancement Office
$40 per person; tickets must be presented at the event for admission.
5pm doors open; 6pm food is served; 7:15pm guest speaker; 10pm event ends
Guest Speaker: Dexter Manley, Former Washington Redskins Standout
Location: DeMatha Catholic High School Antler Room
Adults Only: Must be 21 to attend! No Exceptions.
Admission includes food, beverage, speaker.
Notes: There will be NO cigar smoking in the hall; an area will be set up outside for smokers.
At 4pm, the varsity basketball team will be scrimmaging in the (LT) SEAL Brendan Looney '99 Convocation Center (Opponent TBA).
Questions: email tfarrell@dematha.org.

Interested in joining the DeMatha Alumni Association? Click on this LINK and register online for a Lifetime Membership for only $100 or a yearly cost of just $25. At the 'Donation Designation" please select Alumni Association/Alumni Association Dues: Register Online. The Association sponsors many events during the year, including the Stag Night, which benefits the athletic department, and the Ray Smith Golf Classic, which last spring raised more than $40K for financial aid. Membership includes access to the Alumni Lounge before basketball games. We need your support! Contact tfarrell@dematha.org for details.

The St. John deMatha Society was created to recognize those benefactors who have put DeMatha in their estate plans. If you are interested in joining this group and having the school recognize your philanthropic intentions, please e-mail Thomas Ponton '78 at tponton@dematha.org.
Spirit Wear Item of the Week:
Please stand with DeMatha in support of Breast Cancer Awareness Month. This is our 6th year to partner with The Red Devils out of Baltimore. Their mission is to fund support services that improve the quality of life for breast cancer patients and their families. See their impact at www.the-red-devils.org and help by purchasing our full-zip Pink Hoodie for $40. Available online or in store. Pay Online With The Stag Store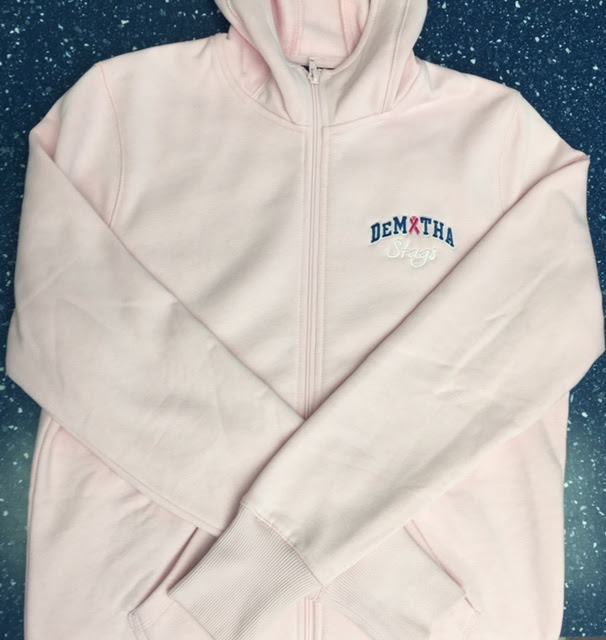 From the Office of Advancement:
Letter Dr. McMahon received recently from an alum, who was present when DeMatha performed recently at the Federal Government's Combined Federal Campaign official kickoff:

Dear Dr. McMahon:
My name is Gerald Patterson and I am a proud graduate of DeMatha Class of 1972. I am currently an Executive at the Combined Federal Campaign of the National Capital Area (CFCNCA) that is on a detailed assignment from the U.S. Department of Commerce. At Commerce, I am a Special Advisor to the Deputy Under Secretary for Industry and Security. Dealing with issues involving national security and high technology, we help stop the proliferation of weapons of mass destruction, while furthering the growth of our exports. We play a pivotal role in the implementation and enforcement of numerous tariffs on many U.S. trading partners.
I wish to extend our gratitude to DeMatha for allowing us to experience the beauty of hearing the Voices of DeMatha. Led by Mr. James Turk, these fine group of men exhibited a song range that was sweet and melodic beyond anything that I have experienced in my 65 years. To say that I had goose bumps on my arms would be an understatement. Ok, I am partial to any and all things DeMatha. To top it off, the choir sang a freshly written original song just for the CFCNCA kickoff. Each word in that lyric was on point!!!
Funny thing, of course as proud as I was to have shared the moment with my alma mater, when I shared my connection with others also attending the event, their responses ranged from "..they were awesome" to "..Oh my God what a group" to "...Jerry, you must be proud."
I must admit, yes, I felt like a proud father.
Once again, thank you for allowing over 600 attendees to experience this "gift."
One final note, boy did I recognize those blazers immediately...over the years, some things just never change.
Jerry Patterson
DeMatha Class of 1972
---------------
God Bless,

TP